A Little Bit About Mont Rouge Olive Estate
The Mont Rouge Olive Estate nestles in the Groot River basin which flows through the farm en route to Gouritzmond. 
At an elevation of approximately 250 meters above sea level, in limy soils, this makes for perfect Mediteranean terroir for olive cultivation.
Our orchards consist of Mission, Frantoio, Kalamata, Lecino, Coratina and Nocellara cultivars.
Our olives are handpicked at optimal ripeness and the oil extracted cold to achieve extra virgin quality. Our table olives undergo a process of slow fermentation of 12-14 months. Whence bottled you can be assured of a product that has been preserved by limestone filtered mountain water, and salt of the earth – only.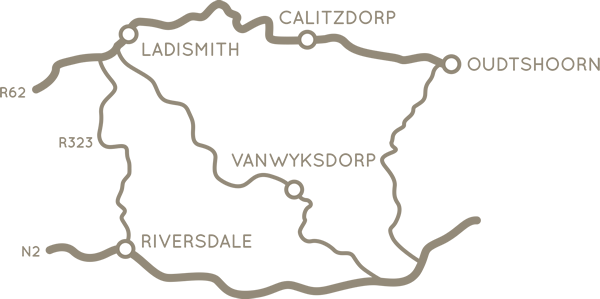 Our Commitment to Excellence
We became a member of the SA Olive Industry Association in order to ensure that we adhere to their quality standards.
The following requirements have been met – guaranteed 100% South African product, year of harvest is displayed on the bottle, adherence to the SA Code of Conduct and Practice for production and labelling and assurance that high quality standards are met with the label accurately reflecting its content.
A Little Karoo olive farm with a big heart.
Corporate Social Responsibility
The Mont Rouge Olive Estate is a wholly owned subsidiary of Assegaay Bosch Ranch (Pty) Ltd which also operates other employment generating rural enterprises in and around Vanwyksdorp.
The Estate is situated 12kms East of the village of Vanwyksdorp on route R1661 to Calitzdorp – in the heart of the Little Karoo. The farm was previously operated as a mechanised lucerne farm but we took the leap of faith in 2006 to slowly convert from lucerne to olives.
Unemployment in the district of Vanwyksdorp is of the highest in the country and in an effort to alleviate this problem as well as the abject poverty that goes with it we thought the switch to olives be a wise one as it is probably the most labour intensive of all fruit farming enterprises.